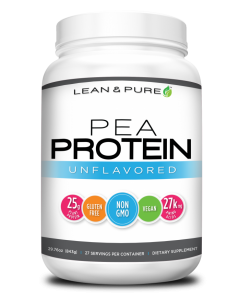 Olympian Labs Pea Protein is an organic, vegetable-based complete protein powder derived from yellow peas (Pisum sativum). Pea Protein is a great protein source that helps to build lean muscle mass, provides optimum nutrition, and it keeps your hunger more satisfied than other protein powders. Its balanced amino acid profile with BCAAs is great when you are working out a lot and challenging your muscles.
Most commercially available protein powders are derived from soy, rice, eggs, or dairy, which are often problematic for those with allergic dietary concerns. We've chosen pea protein because it is a plant-based, hypoallergenic protein that is easily digested. OL's Lean & Healthy™ Pea Protein is great for athletes or just as a healthy, lower-calorie snack.
Our Pea Protein is concentrated from the normal level of 6% in fresh peas to more than 80% protein content! This unique process produces a protein powder that is highly soluble and easy to digest.
Available Flavors:  Vanilla, Chocolate & Unflavored
Olympian Labs Pea Protein Benefits Include:
25 g Complete Organic Plant Based Protein per serving
Supports Lean Muscle Mass
Easy digestibility—less bloating
Balanced amino acid profile with BCAAs
0 Trans Fat
Low Carb/Lower Calorie Snack
Soy and Dairy-Free
Cholesterol-Free
Highly Soluble
Paleo Acceptable
Diabetic Friendly
Double Chocolate Protein Cookies
Yields: about 24 cookies,
vegan, GLUTEN FREE, AND ALLERGEN Free
2 ¼ cup gluten free oats
1/2 tsp cinnamon
2 TBSP cacao/cocoa powder
1/2 tsp baking soda
1/4 tsp salt
½ cup Olympian Labs Chocolate Pea Protein Powder
3 large ripe bananas (about 2c banana puree)
1/4 cup  Unsweetened Vanilla Coconut Milk
4 TBSP Light Brown sugar
1-2 TBSP Swerve (or sweetener of choice, such as Truvia) – if you like it really sweat go with 2 TBSP
1 tsp pure vanilla
½ cup chocolate chips  (Enjoy Life Chocolate Chips for vegan and allergen friendly cookies)
Awesome ADD INS:
1 cup mini marshmallows
1/3 cup chopped nuts of your choosing
6 TBSP of Powdered Chocolate Peanut Butter  (we used Just Great Stuff) You can also mix this up and drizzle on top after baking.
Directions:
Preheat oven to 350F.
In a medium/large bowl combine oats, cinnamon, cacao powder, baking soda, and salt.
In a high-speed blender, blend together bananas, coconut milk, light brown sugar, Swerve sweetener, and vanilla. NOTE: You can also make these by hand mashing the banana with a fork, stirring in coconut milk, sugar, and vanilla.
Pour the wet ingredients into the dry and mix until well combined. Stir in chocolate chips & add ins of choice.
Spoon onto a cookie sheet lined with parchment paper
Bake for 10-15 minutes. Let cool slightly before removing from pan to a wire rack or enjoying warm. Enjoy!